Have fun and adventures in the WEIRO® forest kindergarten trailer
You are planning a forest kindergarten and want to use an appealing construction trailer for this purpose? Tell us about your ideas and we will tell you what is possible. Together we will develop a clear concept from your visions.

A construction trailer thoroughly thought out down to the smallest detail is the ideal forest kindergarten in which children can receive a valuable education.

Contact us, we would be happy to provide you with advice.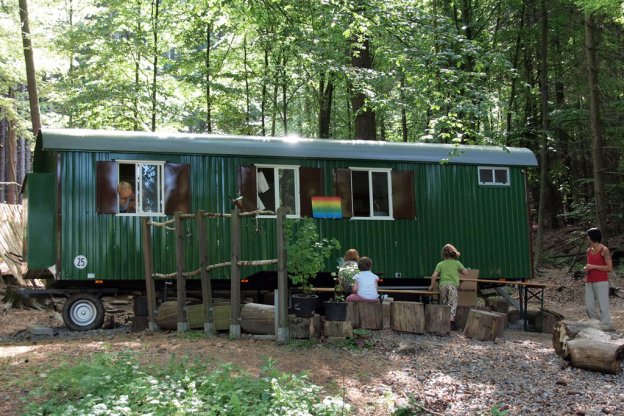 Forest kindergarten with a body length of 8 m and a body width of 2.50 m.
Fitting perfectly into the planned environment with a green body and brown window shutters. To ensure stability, there are four continuously adjustable screw spindle supports mounted on the chassis.
There is a roof overhang located above the door as protection against the weather, and the entry stairway is equipped with a railing for safety.

To create additional storage space, a large equipment box is mounted under the body. A folding table mounted on the side of the construction trailer can be used for outdoor activities.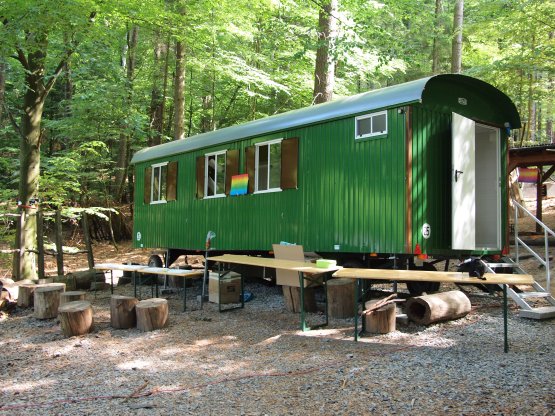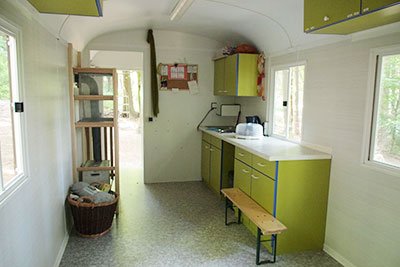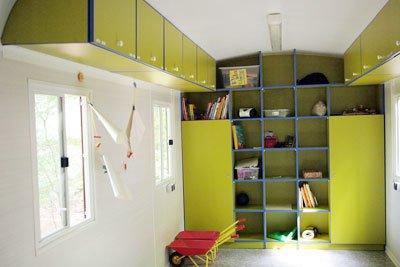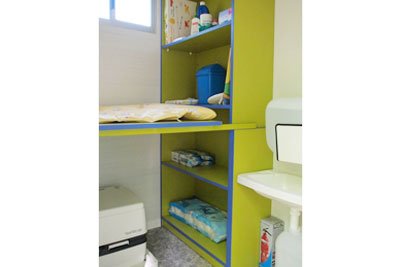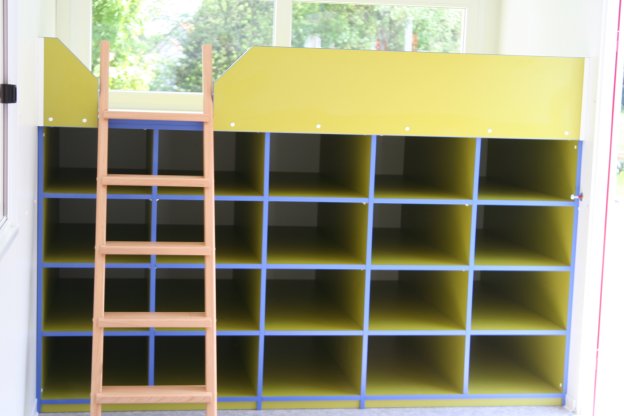 This rolling forest kindergarten some also has some special details inside: You enter the trailer through a windbreak.
In the bright compartment, a childproof cabin oven produces cozy warmth with small, clever extras like a glove rack for drying gloves.
The small kitchen is equipped with a stainless steel sink and an electric cooker so you can prepare warm meals. In the toilet compartment, there is a camping toilet as well as a washbasin with fresh water and waste water tanks. The diaper-changing table can be folded onto the wall to save space.
Perfectly customized and thought through down to the smallest detail, colorful built-in cupboards and shelf systems provide a lot of storage space.
Other examples of finished forest kindergarten projects
Examples of sheet metal outer paneling
Examples of wood outer paneling
Examples of interior equipment
Examples of stairways suitable for children